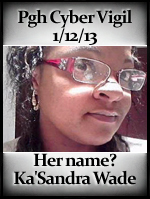 "33 year old Ka'Sandra Wade – mother, employee, daughter, student and so much more – was murdered by her ex who was also the father of her 11 year old son, Zaire. The situation is complicated and tragic and has generated an outcry from the community to push for better investigation of domestic violence allegations, stronger laws to protect women and more awareness on the part of the community. Too often in similar situations the names we remember are those of the murderers. It is tragic that so many headlines about the murder of Kassandra Perkins at the hands of her boyfriend, NFL player Jevon Belcher didn't even mention her name. He murdered the mother of his son, then himself – and the headlines focused on his name and his final moments and his teammates. That's not acceptable."
Domestic violence doesn't discriminate. It is in every race, religion and economic class. Hell, it even crosses political lines!!!! Domestic violence doesn't even care if you are a Democrat or a Republican.
As a society, we have to work harder to end these senseless deaths. We have to work harder to educate the victims. We have to work harder to get them the help they need. We have to work harder to educate the court system. But most of all, after they finally get the courage to leave, we have to work harder to educate the law enforcement community to take the threats they get from the abusers seriously.
Woman stay in abusive relationships for a variety of reasons. It is not up to us to judge. If you have a friend or family member who is victim of domestic violence, just be there for them and offer your help. Especially if they finally get the courage to leave.
I've had at least three friends that were victims of domestic violence. Each one was handled differently. When I found out my childhood friend was being abused, I went and confronted him publicly in front of all of his friends. I threw him up against the wall and told him if he was in the mood to hit a woman, please call me. I'll give him a good fight. I have a brown belt in karate. I shoved him across the room, and told the guys he was with what a real "
man"
he was. I shouldn't have done that. Unfortunately, he went home and took his anger out on my friend. He beat the crap out of her. I felt terrible. Luckily, she left him shortly after that.
My second friend was a victim only once. When she got out of the house, her and I went to the police and sat in night court all night waiting for a judge to sign a temporary PFA. It took so much courage for her to leave. The police and judge all just rolled their eyes at her as if to say, "
yeah, sure you'll leave him. We will see you back here again
." She never did go back. She got divorced. And is now remarried to a man that adores her and respects her. If she had stayed, her life would be much different than it is today.
My third friend is on the video below. I'll let her tell her own story. Talk about courage.
http://www.youtube.com/watch?v=QZuG5jC5fDA&feature=player_embedded
Here is a Post Gazette story about Ka'Sandra Wade
http://www.post-gazette.com/stories/local/neighborhoods-city/slain-larimer-girlfriend-was-seeking-fresh-start-668770/
Information and resources for victims of domestic violence can be found
here
.
If you want to hear a gut wrentching story, listen to William
Gay of the Pittsburgh Steelers telling about his mothers murder. The pain in his voice is heartbreaking